Getting to Kimberley Cattle Drive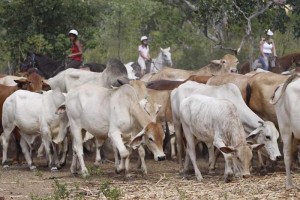 The nearest gateway town is that of Kununurra (population approx 6500) which hosts numerous daily flights to and from Perth, Broome and Darwin.  From Kununurra guests can drive or fly to Home Valley Station.
Home Valley Station is 120km from Kununurra along the Gibb River Road. Numerous car rental agencies in Kununurra make 4WD vehicles available for both short and longer term hire. The Gibb River Road is mostly unsealed but is well maintained and in great condition when it is open from approximately April 1 – October 31.
From Kununurra Airport simply turn right onto the Great Northern Highway and follow the highway approximately 50km to the turn off of the Gibb River Road. Turn left onto the Gibb River Road. Drive 69km along the Gibb River Road to Home Valley Station. Travellers will encounter the Pentecost River Crossing on the way – which is 9km from the station's main entrance. Turn right into Home Valley Station entrance (clearly signposted), the main Homestead is less than 2km from the Gibb River Road.
Alternatively guests can fly directly to Home Valley Station, landing at the station's airstrip. The airstrip is 1300m long x 18m wide and meets CASA/RFDS standards. Co-ordinates: 15°43'23″ South / 127°49'41″ East. Guests can fly approximately 25 mins direct with a local air charter company from Kununurra Airport or take part in the station's scenic flight via the Bungle Bungles upon request. Self-fly accepted subject to direct arrangement with the station.