Sean Choolburra
He's deadly, dynamic and at times almost hypnotic
A captivating comedy and cultural performer, Sean is a huge inspiration to the youth of Australia and has developed into one of our finest cultural ambassadors. He is in constant demand as an MC, comedian, dancer, hip-hop didge player and traditional workshop performer.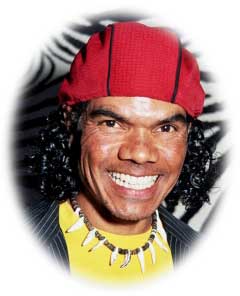 Sean Choolburra has carved his niche as Australia's No 1 Indigenous entertainer. After winning the NSW RAW COMEDY final in 2002, Sean has gone on to prove himself as a dynamic and versatile comedian, rap singer, dancer, storyteller, actor and hip-hop didge player.
Sean performed in October 2009 for the Scottish Storytelling Festival as an invited guest. This tour came as the result of him doing shows at the Edinburgh Fringe in 2008 at the Edinburgh College of the Arts. He also performed at the ADELAIDE FRINGE FESTIVAL, hosted the DEADLY FUNNIES in Melbourne, Adelaide and Perth.
On 31 March 2008 performed on MICF Gala on the 10 Network during his Melbourne International Comedy Festival Season. Episode 19 in 2007 saw Sean debut on THANK GOD YOU'RE HERE.
He has previously performed at the OPERA HOUSE and the MELBOURNE COMEDY FESTIVAL with his one man show 'OIL OF MY LAND' – which drew on his life experiences as an aboriginal growing up and gave perfect opportunity for blending his skills as a dancer and didge player. Sean gives audiences a chance to get in on many hilarious 'Black Fella Yarns'. He headlined the DREAMING FESTIVAL in 2005- 2008. Sean is still recognised following his 2 performances on the NRL FOOTY SHOW in 2006.
Hailing from Townsville, Sean has an established career as a dancer and created the NGARU DANCE COMPANY and performed all over the world with the BANGARRA DANCE COMPANY, including by invitation for the Dalai Lama, Hale & Pace and Prince Charles. He is charming, captivating, cheeky, clever and charismatic. Perhaps his ability is to share the naivety of a small town aboriginal boy still coming to grips with the big city lights that make him all that much more inviting and engaging as a performer.
"Part of my shows look at my Aboriginal and Australian identity, that is becoming very Americanised. My old grandfather says "Look at you kids, dressing up like Americans" without noticing he himself wearing cowboy hat and boots just like John Wayne. He likes to jibe us about wearing hip hop clothes and LA hats "You kids have never been to LA", and I say LA doesn't stand for Los Angeles it stands for 'Love Aboriginal' then I break into a bit of didge hip-hop rap," he said.
Sean's comedy is uniquely and truly Australian. His is a fresh new voice in a comedy scene inundated by white fellas. He blends popular culture, dance, comedy and hip hop in a high energy, feel good show. He is a rising star of not only the comedy world but also as an all round entertainer and guaranteed to raise your spirit while splitting your spleen.
These days Sean is in constant demand as an MC and Comedian for official functions, corporate events, theatre shows, comedy clubs, workshops, openings and festivals.
PHONE: 0755 591250 | 0756 302054
MOBILE: 0422 966446
EMAIL: Direct to: gamut1@bigpond.com
WEBSITE: www.seanchoolburra.com (official website)
ADDRESS: PO BOX 1725 Mudgeeraba, Queensland 4213